This is the story of my 67 Firebird
The 1967 Firebird was my first street car. I drove it all over the place. It ran high 12s in the quarter mile on Goodyear Eagle street tires with a 400 CI with a RA IV cam and a Holley 750 DP. It also had a 350 turbo transmission with 3:73 gears in a 12 bolt rear. I wanted to go a little faster so I built a 428 CI with a flat tappet cam and #48 heads that I ported. I also used a Holley Street Dominator intake with a Holley 850 DP. I used the same transmission, but with a 3800 stall converter.
Now I had a different problem, the car just did burnouts! So my good friend Wes Cator and I backed halved the car with ladder bars and coil over shocks; then the Bird hooked! The Firebird ran a consistent 9.80 at 137 MPH. That engine combo was good for about a year but I still wanted to go faster!
I ordered a tube chassis kit from Vanishing Point Race Cars. It took about 3 months for Wes and me to build the chassis, put the 67 Bird body on it, and finish the car. The Firebird received a new power plant at the same time that we stepped up to a Butler Performance stroker kit and a set of RA-II heads that were ported by Butler himself. This time I switched to a Powerglide transmission with a 4500 stall converter. I also put 4:11 gears in my new 9 inch Ford rear. Now the Firebird ran 9.05 @ 154 MPH.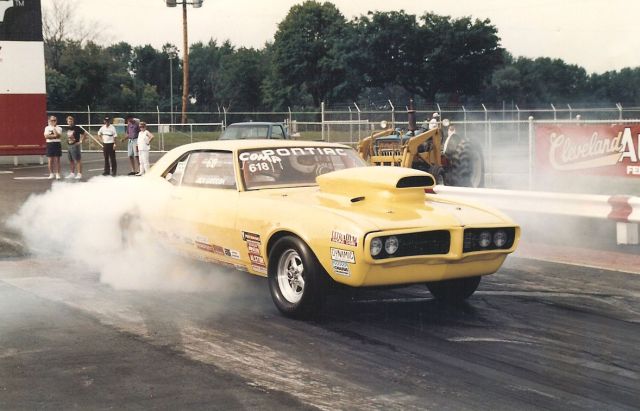 This is the story of my 2000 Firebird
Gaydosh Performance's Pontiac engine has the first set of Tiger heads cleaned up by Wallace Engine Company of Baltimore. These are now the Tiger heads that Allpontiac.com sells as out-of-the-box race heads that any one can buy!
Our Pontiac engine is 537 cid 4.500 stroke with a 4.360 bore. It has MGP aluminum rods and the cam is a Comp Cams special grind created by Brad Wallace of Wallace Engine Company. The sheet metal intake was made by Taylor Lastor, from Tennessee, who does a lot of Comp and Pro Stock intakes. He also sells these intakes for this engine combo that any one can buy.
The carburetors are a set from Bob Booke, who does a lot of pro stock carburetors. I would like to thank Frank from AllPontiac.com for all his support over the years. Also, I would like to thank Brad Wallace of Wallace Engine Company for his help any time I need it. Without them I could not have gone as far as I have! Thanks to Scott Rex for all the information that we share. Scott and I are great friends and that's why I can try different things and share the info with Scott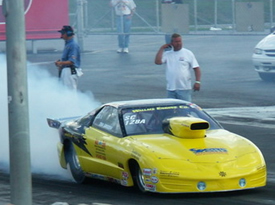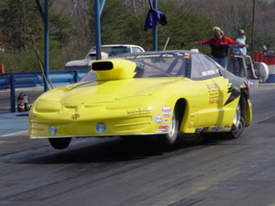 NHRA Pro Stock - 2007 Pontiac GTO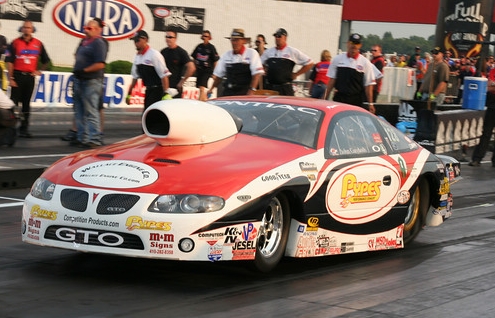 Video clips taken at Indy